This article will guide you to how you can install or setup wordpress on IIS Manager windows based server.
Wordpress can be installed using PHP, IIS (internet information services) Manager , Mysql (phpmyadmin or MySQL Workbench ) database.
How To install WordPress on IIS
Before proceeding to WordPress installation on IIS we will need to configure prerequisite on windows server. We will need PHP and Mysql database on server. Detailed steps for configure prerequisite with link and description are listed below.
1) Setup PHP in IIS Manager. Read Article
2) Setup MySQL on Windows Based Server.
3) Host Entry On Windows
After configuration of prerequisite listed above , now we are ready to setup wordpress site on IIS with steps listed below.
Steps No 1: Host File Entry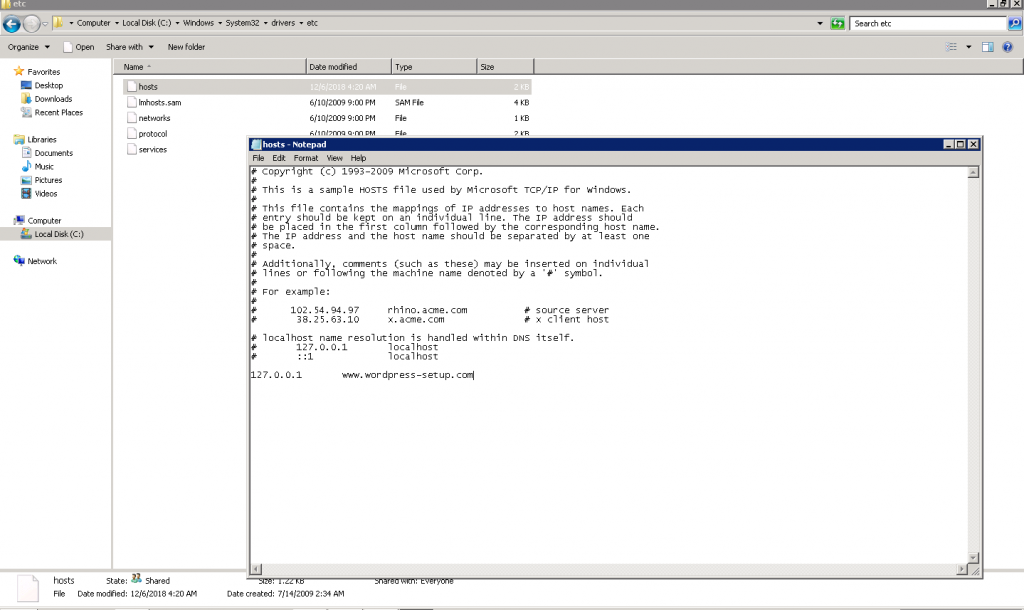 First you will need to add a host by editing host file that is stored on local machine.
Goto path "C:\Windows\System32\drivers\etc" open host file by right clicking on file and "run as Administrator " will open the file to edit. You can see examples of adding new entry in screenshot.
Steps No 2: Download WordPress
Download Latest version of wordpress form Download WordPress.

Unzip downloaded wordpress zip file in Web root folder "C:\inetpub\wwwroot".

You can rename Unzipped WordPress folder to any name you want..

Open the WordPress Folder and the file hierarchy will look like this.

In WordPress folder rename "wp-config-sample.php" to "wp-config.php".

After rename open "wp-config.php" file to edit.

In config file replace "database name" , "database user" and "password" with your info.
Step No 3 Host Site in IIS.
Open IIS manager

Right click on Sites and "Add new website".

Provide the required information in window and click add button.

Now browse the website site from right panel or type url of the site in browser. See screenshot.

WordPress installation screen will open.

Enter the required information of your site and click "Install WordPress" button.

After WordPress successfully installed it will be redirected to Login page page.

Login to View Admin dashboard.

Installation completed, now you can continue to add pages/post/blogs to your site.Enjoy!